MITSUBISHI ECLIPSE CROSS TAKE SECOND PLACE IN 2019 REBELLE RALLY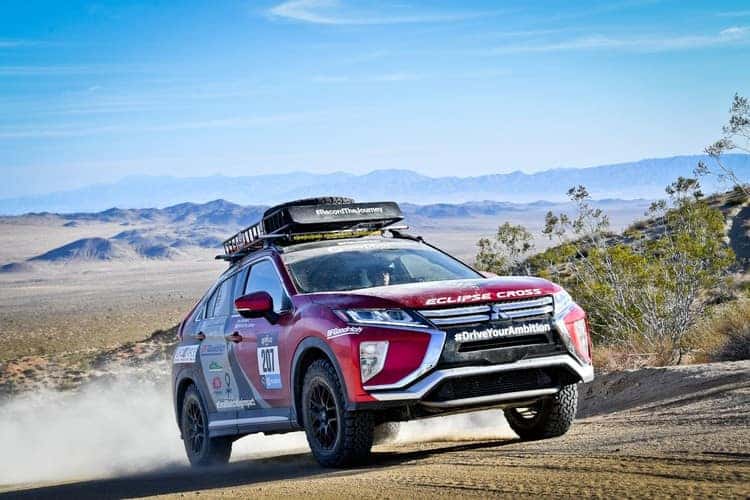 Air Force veteran Karah Behrend becomes first disabled athlete to complete, and podium, in the all-women's off-road navigation rally raid
Mitsubishi Eclipse Cross proves its grit and drives Team Record the Journey to finish line with minimal modifications
CYPRESS, Calif. – Mitsubishi Motors North America, Inc. (MMNA), the fastest-growing Asian brand in the U.S. for the second consecutive year*, celebrated Team Record the Journey securing second place in the Crossover Utility Vehicle class of the 2019 Rebelle Rally and breaking barriers with the first adaptive-athlete driver ever to compete in the rally.
U.S. Army and Air Force Veterans Rachael Ridenour and Karah Behrend of Team Record the Journey made history as Behrend drove their hand control-equipped Mitsubishi Eclipse Cross over the finish line and became the first adaptive athlete to complete and podium in the Rebelle. Ridenour and Behrend mastered skillful driving, precise navigation and effective team communication to earn a total of 1,265 points and secure the runner-up spot in the rally's Crossover Utility Vehicle class.
Their performance also earned them the 2019 Rebelle Rally Team Spirit Award, which honors the most inspirational team in the event as voted by their fellow competitors.
"We went into the rally with a goal of completion and were able to achieve much more thanks to our immense support system," said Behrend, who was forced to medically retire from the Air Force after losing the use of her legs and parts of her hands to a progressive neurological disease. "Having the honor to compete in the Rally as the first driver with a fully hand-controlled vehicle and to share my experience with others to hopefully encourage them to break through their own barriers and charge ahead has been unbelievable. It's not every day you get to be in an environment with such strong, accomplished, resilient and likeminded women, and for me, that was icing on the cake."
The Rebelle Rally is more than a grueling eight-day rally raid, it's a proving ground for vehicles. From the slopes of Lake Tahoe, to the depths of Death Valley and on to the iconic Imperial Sand Dunes of Glamis, California, one element remained constant, the Eclipse Cross CUV. In preparation for the 2000-kilometer rally, minor modifications were made to the Eclipse Cross by Road Race Engineering of Santa Fe Springs, California. Vision Wheel Vision Cross wheels and BFGoodrich All-Terrain T/A KO2 tires were added along with a Thule roof rack and cargo basket. A Baja Designs S8 30″ amber LED light bar, Mitsubishi accessory skid plate and custom-fabricated intercooler bash bar were also installed. In order for Behrend to drive Featherlite by Sure Grip hand controls were mounted by Ability Center of Orange County.
"It took a team effort to get us here," said combat veteran Ridenour. "Karah drove a smart, confident rally, the Eclipse Cross exceeded all our expectations, and our sponsors and partners came together to ensure the vehicle was equipped to effortlessly navigate through the various terrains and driving conditions we encountered. We put the Eclipse Cross through its paces over the last eight days, and it earned its stripes and our admiration."
As the first installment of MMNA's new corporate social responsibility program "Small Batch – Big Impact," the Eclipse Cross will remain with Ridenour and Behrend to support the nonprofit Record the Journey and its programming to benefit veterans. Moving forward MMNA will provide Community Utility Vehicles to other local nonprofits and charitable organizations across the country that spur change and greater good in their communities.
"We could not have found a more inspiring and deserving duo to put our first "Community Utility Vehicle' to use," said Kimberley Gardiner, vice president and chief marketing officer, MMNA. "The determination and unwavering passion Rachael and Karah have for helping others embodies exactly what is at the core of our "Small Batch – Big Impact' program. The Rebelle Rally was phase one. Now we're looking forward to supporting their ongoing work with fellow veterans and adaptive athletes."
Rachael's and Karah's Rebelle Rally adventure was captured on MMNA's social media channels (www.facebook.com/mitsubishi, www.instagram.com/mitsubishimotors, and www.twitter.com/mitsucars) and can be found by searching #SmallBatchBigImpact.
*Based on Motor Intelligence CY2017 and CY2018 Sales by Manufacturer data. Excludes premium brands.